Thursday, February 10, 2005
M.A.S.H.E.D.
Not like there's anyone who isn't reading about this right now already, but Jeff Gannon
finally threw in the towel
.
The Talon News correspondent at the center of a scandal over his White House press credentials quit Tuesday night amid a growing online investigation into his history, including allegations of involvement with several websites appearing to support gay pornography and promote male prostitution.

Jeff Gannon (a pseudonym) announced on Tuesday night via his personal website that he had found it "no longer possible to effectively be a reporter for Talon News. In consideration of the welfare of me and my family I have decided to return to private life."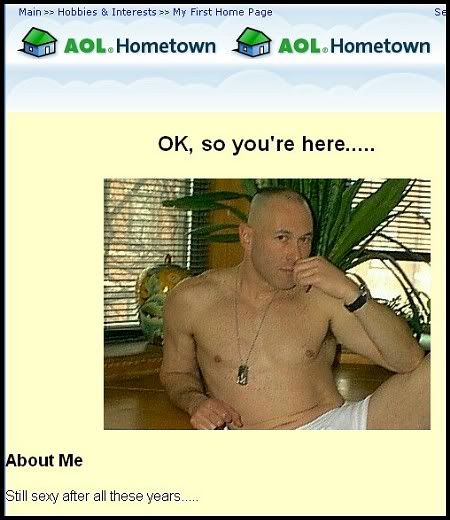 You can watch a cute commercial and read even more about it on
Salon.com
. Delicious.
|
Monday, February 07, 2005
Amazing
Without flinching, President George W. Bush is offering up an "austere" budget proposal for this year, making some tough choices and screwing over everyone but the wealthy to get the deficit down, without once mentioning how he screwed the whole thing up in the first place.
It's really quite beautiful
.
The Pentagon and Homeland Security are among the budget's few winners but they would see a slight slowdown in growth after post-Sept. 11, 2001, surges.

Bush would chop farm programs by 2.9 percent and squeeze $45 billion in savings from the Medicaid health program for the poor while abolishing subsidies for the Amtrak rail system and cutting community development programs by 4.5 percent.

Bush said in his budget statement his plan "takes a hard look at programs that have not succeeded or shown progress, despite multiple opportunities to do so."

From this year's record $427 billion, the budget deficit will narrow to $390 billion in 2006 and $251 billion in 2008, the White House said.

Even if Bush meets the goal, the total federal debt would swell to $11 trillion in 2010 from $8 trillion this year.

The budget leaves out some big items, such as the future costs of military operations in Iraq and Afghanistan and massive borrowing required by Bush's plan to add private retirement accounts to Social Security (news - web sites).

Within days, Bush will ask for another $80 billion to fund the conflicts in Iraq and Afghanistan this year, on top of the $25 billion provided for 2005. Another big supplemental request for the Iraq war is expected to be sent to Congress next year.
Would we expect anything less?
|