Friday, September 03, 2004
It's Obviously Miller Time
Wednesday, September 01, 2004
Kobe Gets Off -- I Mean, Er...
More On 77
Brothers, Come Together For Mother Russia
Please, Ambassador Kournikova, explain to we ignorant Americans just
what is happening in your homeland
? (And bring that Sharapova girl along, too, and wear those little skirts.)
Gunmen with explosives strapped around their waists took more than 200 people hostage at a school in southern Russia near war-torn Chechnya and threatened to blow up the building if the security forces moved in.

In Russia's fourth terror attack within a week, the 20 masked and heavily armed individuals dressed in black burst into the courtyard of the school in the town of Beslan where students were lining up for their first day in school at 10:00 am (0600 GMT).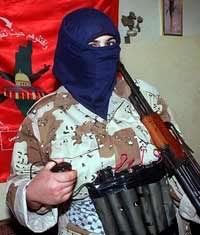 OR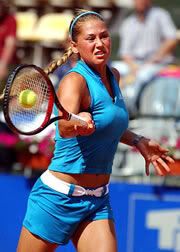 ?

North Ossetia's interior minister, Kazbek Dzantiev, said the hostage-takers had threatened to kill 50 children for every abductor killed, news reports said.

Top Chechen rebel leader Aslan Maskhadov denied that his forces were behind the attack through his spokesman in London.

The hostage-takers had mined the perimeter of the school, police said. "They have placed mines around it and a cow has already blown up on one of them, a spokesman said.
It is a shame and a mystery that a country which produces such hot tennis stars must do battle with terrorism, as Russia does. As an American, I choose to exercise my right to demand that these Chihuahuan rebels cease and desist immediately, so that there be no threat to Russia's hot female athlete export trade -- and I ask you to join me in that demand now.
Prominent politicans such as Howard Stern and
Maxim
magazine all agree that this valuable resource must be protected, and I propose we take whatever steps necessary to do so. Does that include military intervention? Only time will tell.
But probably, yes.
I do not think most Americans realize just how different life would be without the constant influx of lithe, tan and feline-eyed Russian women; how empty our everyday will become if we continue to allow these barbarians to continue their reign of terror on Russia; how unattractive lesbian tennis players are. The time for complacency has come to an end. For too long we have taken this precious commodity for granted, but now these rebels challenge our very way of life, and it is at times like this, with a clear and gathering danger, that people everywhere -- no matter who can kick whose ass at the Olympics
and
in a war -- must come together for the common good. Let us stand up, not as Americans, but as horny men, and demand that the madness end in Russia. Civilization depends on it.
So write your local congressperson and your senator and even the President. Better yet, email them, and voice your support for Russia in this time of turmoil. Anna, we will stand beside you always. And behind you. If you know what I mean.
Na Zdrovia
|
Tuesday, August 31, 2004
And Then This...
Tin Foil, Aisle 4
Big Catfish
Sunday, August 29, 2004
Why the Japanese Are So Far Ahead of Us